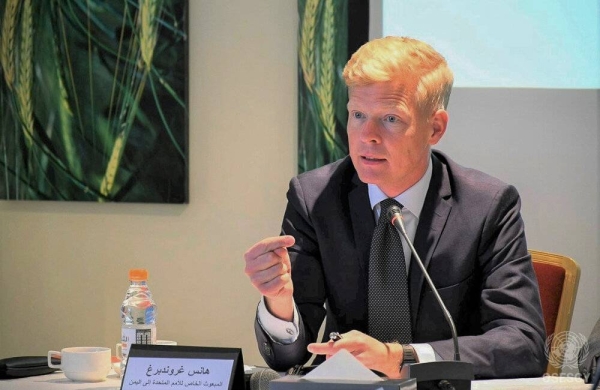 ADEN — A truce between the Yemeni government and the Houthis has been extended for two months, the United Nations has announced.
The initial two-month truce, the first since 2016, began on April 2 and was set to expire on Thursday. Still, after days of negotiations, UN Special Envoy for Yemen Hans Grundberg announced that parties to the conflict had agreed to an extension.
"I would like to announce that the parties to the conflict have agreed to the United Nations' proposal to renew the current truce in Yemen for two additional months," Grundberg said.
Grundberg added that the truce extension would come into effect "when the current truce period expires, today 2 June 2022 at 19:00 Yemen time (1600 GMT)".
"I am grateful for the support of the international community for the implementation and renewal of the truce. I note in particular the support of the Kingdom of Saudi Arabia and Oman," Grundberg said.
"I will continue engaging with the parties to implement and consolidate all elements of the truce in full, and move towards a sustainable political settlement to the conflict that meets the legitimate aspirations and demands of Yemeni women and men."
"The announcement of the truce extension today shows a serious commitment from all parties to end the suffering of millions of Yemenis," the Norwegian Refugee Council's (NRC) Yemen Country Director, Erin Hutchinson, said in a statement after Grundberg's announcement. "The last two months have shown that peaceful solutions to the conflict are a real option."
Though the provisions of the truce were not fully implemented – roads leading to the largely government-held city of Taiz continue to be closed by the Iran-aligned Houthis, for example – there have been some significant breakthroughs.
As part of the truce deal that went into effect on April 2, the parties to the conflict had agreed to halt all military operations inside Yemen and across its borders, operate two commercial flights a week from Houthi-controlled Sanaa to Jordan and Egypt, allow 18 fuel vessels into the port of Houthi-controlled Hodeidah, and open the roads in Taiz and other governorates.
According to the NRC, the number of civilians killed and injured in Yemen dropped by more than 50 percent in the first month of the truce. — Agencies