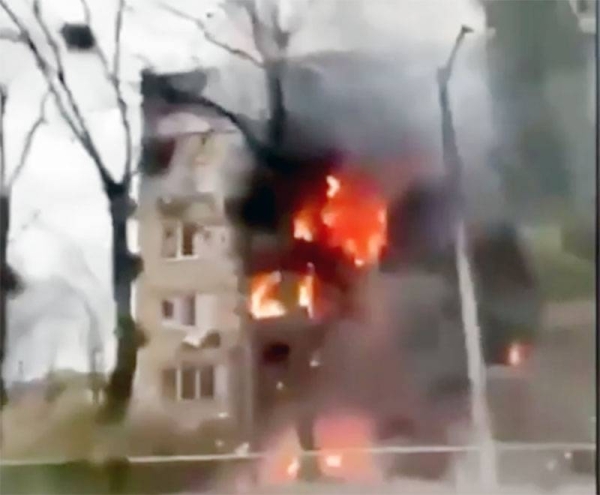 KYIV/ WARSAW —Two people died Tuesday afternoon after a projectile struck an area where grain was drying in Przewodów, a Polish village near the border with Ukraine, domestic media reported.
Polish Prime Minister Mateusz Morawiecki has called an emergency meeting of the country's top national security and defense officials due to a "crisis situation", according to government spokesman Piotr Mueller.
NATO — of which Poland is a member —- is analyzing reports claiming that the blast that killed at least two near the border with Ukraine was caused by stray Russian rockets, according to a security alliance official on Tuesday evening.
"We are looking into these reports and closely coordinating with our ally Poland," a NATO official told Euronews.
Officials from Norway and Estonia — members of the NATO defence alliance — said they were trying to find out more information.
"This is a very serious incident but much remains unclear," Norwegian Foreign Minister Anniken Huitfeldt said, according to Norwegian news agency NTB.
Estonian Foreign Minister Urmas Reinsalu said, according to BNS newswire: "We are discussing with our allies how to respond to what happened jointly and decisively."
Latvian Defense Minister Artis Pabriks blamed Russia for the explosion in Poland Tuesday evening on Twitter, saying that his country "fully stands with Polish friends and condemns this crime".
There has been no information from Polish officials on the cause of the explosion in Przewodów at this time.
In a statement on Telegram on Tuesday evening, the Russian Ministry of Defense rejected the possibility of its missiles striking Poland as a "deliberate provocation in order to escalate the situation."
"No strikes on targets near the Ukrainian-Polish state border were made by Russian rockets."
The images of the wreckage published by local media in Poland "has nothing to do with Russian weapons," it added.
Hungarian Prime Minister Viktor Orban has also convened the country's Defense Council for an emergency meeting over "the missile hitting territory of Poland," according to his spokesperson Zoltan Kovacs.
President of Lithuania Gitanas Nausėda, meanwhile, stated that the "news of at least two explosions" was "concerning".
"Keeping a close contact with our Polish friends. Lithuania stands in strong solidarity with Poland. Every inch of NATO territory must be defended," Nauseda stated on Twitter.
The White House and the US Department of Defense said they could not confirm the information on the explosion being caused by stray Russian missiles.
The Pentagon was said to be "reviewing" press reports that two Russian missiles "struck a location in Poland or on the border with Ukraine," a Pentagon official said Tuesday.
"We have no evidence at this point to confirm this information and we are looking into it further," he added.
Local authorities have asked the media not to jump to conclusions and wait for official confirmation from the Polish government.
Przewodów, a village of 710 residents in eastern Poland, is situated some 130 kilometers southeast of the regional capital Lublin and 7 kilometers from Ukraine.
Russia was pounding cities across Ukraine with missiles on Tuesday in attacks that Kyiv said were the heaviest wave of missile strikes in nearly nine months of the war.
Russian missiles struck Kyiv on Tuesday afternoon, hitting three residential buildings, according to authorities in the Ukrainian capital.
Preliminary information shared on Telegram said that two residential buildings were hit in the Pechersk district. Kyiv Mayor Vitali Klitschko later stated a third building was also struck in the same neighborhood.
The extent of the damage is unclear. At least one death has been reported in the meantime.
"Several other missiles were shot down by air defense over Kyiv. Medics and rescuers at the scene of the strikes," Kyiv City Council said.
Footage shared on social media by Deputy Head of Ukrainian President's Office Kyrylo Tymoshenko showed at least one five-story building on fire.
Klitschko confirmed the strikes against Pechersk, a historical area in the center of Kyiv known for its monuments from the Kyivan Rus era.
He stated that emergency power outages had been declared in Ukraine after what he said was a "massive missile attack".
"This is a necessary step to balance the power system and avoid equipment accidents," he said, adding that at least half of Kyiv was without power as a result.
Russia had launched around 100 missiles into Ukraine by early evening Tuesday, an Ukrainian Air Force spokesman said.
Local authorities in Kharkiv have reported that the city is also under attack, according to Ukrainian outlet Suspilne.
"A missile attack on the Industrialniy district of Kharkiv," Ihor Terekhov, mayor of Ukraine's second-largest city, confirmed on Telegram.
Explosions were also heard in Lviv, according to Mayor Andriy Sadovy, who said that "a part of the city was without electricity."
Air raid sirens have been sounded in all regions of Ukraine prior to the strikes, and air defense is said to have been activated by the incoming missiles in several areas, including Kyiv and Mykolaiv.
There was no immediate word on the death toll in other parts of Ukraine. — Euronews