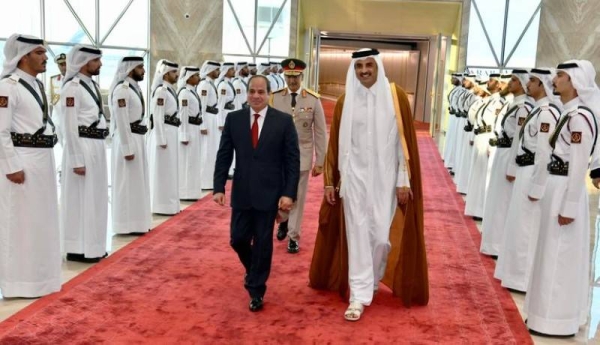 DOHA — Amir of Qatar Sheikh Tamim Bin Hamad Al-Thani and Egypt's President Abdulfattah Al-Sisi on Wednesday stated a shared desire to enhance the friendly ties between both nations.
During the summit talks in Doha, capital of Qatar, Sheikh Tamim welcomed President Al-Sisi and his entourage, voicing hope for even stronger relationship, Qatar News Agency (QNA) reported.
He wished that the visit of the Egyptian leader to Qatar would contribute to enhancing the cooperation between Qatar and Egypt to serve the interest of both nations. On his part, Al-Sisi expressed his deepest thanks and gratitude to Sheikh Tamim for his warm hospitality, hoping that that the bilateral ties between their countries would be bolstered at all levels, QNA added.
The leaders tackled means to develop their relations in many domains, including investments, transportation, social affairs, as well as discussing the latest issues of common interest in the regional and international arenas, it added.
Meanwhile, the official spokesperson of the Egyptian Presidency Bassam Radhi said today in remarks to Middle East News agency MENA that President Al-Sisi during his meeting with Sheikh Tamim stressed on the importance of deepening the bilateral ties between both nations in all political, security, economic and commercial fields.
Al-Sisi highly endorsed the latest visit of Sheikh Tamim in last June.
Sheikh Tamim has welcomed the historical visit of President Al-Sisi to Qatar, considered the first official visit to the country, which came to crown the distinguished developments in the relations between Qatar and Egypt, Radhi added.
He praised the distinguished relations between both nations, endorsing the Egyptian efforts that supporting the Gulf and Arab issues, which greatly contributes to the prosperity and stability of the region, he said.
Sheikh Tamim also stressed on Qatar's keenness to boost cooperation with Egypt in all fields in the upcoming period by increasing the Qatari investments in Egypt, and benefit from the available investments opportunities, he said.
The two leaders exchanged visions regarding the latest developments in the Arab area and region of common interest, as Qatar and Egypt agreed to reach a sustainable political settlement for the region's conflicts, Bassam Radhi added.
They signed a memorandum of understanding between the Sovereign Fund of Egypt and Qatar Investment Authority (QIA), and another memorandum of understanding in the social affairs field between The Egyptian Ministry of social Solidarity and the Qatari Ministry of Social Development, Egyptian Presidency Spokesperson affirmed.
Both sides also signed a memorandum of understanding on cooperation in the field of ports, he added. — Agencies