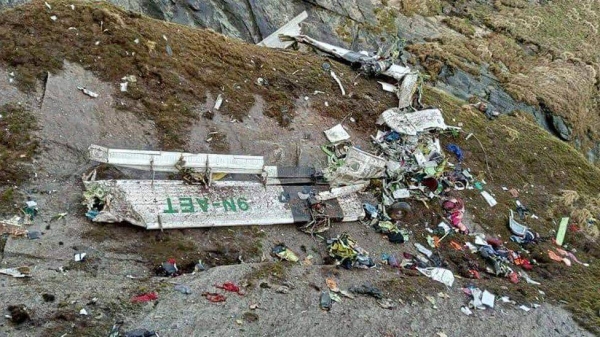 KATHMANDU — Nepalese officials on Tuesday confirmed all 22 people on board a plane that crashed two days earlier were killed after rescuers found and recovered the final body from the wreckage, according to the German news agency DPA.
Ten bodies were brought to Kathmandu by helicopter on Monday evening.
The black box of the Tara Air plane that crashed in Nepal on Sunday has been recovered, civil aviation authorities have confirmed to the BBC.
The plane was on a 20-minute flight when it lost contact with air traffic control five minutes before it was due to land.
"[The] cockpit voice recorder, also known as [the] black box of the plane has been recovered from the crash site," Deo Chandra Lal Karna, spokesman for the Civil Aviation Authority Nepal (CAAN) told BBC Nepali.
"We are preparing to airlift the black box to Kathmandu from a helicopter."
There were three crew members and 19 passengers on board — 16 were Nepali nationals, two were German and four were Indian.
The plane's wreckage was found at an altitude of almost 4,500 meters in Sanosware in Mustang, a Himalayan district north-west of Kathmandu, more than 20 hours after it was first reported missing, according to the Ministry of Culture Tourism and Civil Aviation.
Police said rescue efforts took longer than expected due to bad weather and difficult terrain.
Local rescuer Indra Singh Sherchan said mountain guides and security officials had "cut out" the black box from the wreckage of the plane that was "stuck on the mountain cliff".
The plane – which was made by Canadian aircraft firm de Havilland – had departed the tourist town of Pokhara at around 0955 local time on Sunday (04:10 GMT). It was bound for Jomsom, a popular tourist and pilgrimage site.
The four Indian nationals have been identified as a family of two divorced parents and their two children, who were travelling together on a family vacation.
The Indian victims were from the city of Thane in Maharashtra state, according to BBC Marathi.
They have been identified as Ashok Tripathi, 54, his wife Vaibhavi Bandekar Tripathi, 51, and their son Dhanush and daughter Ritika Tripathi, 22 and 15 respectively.
"After the divorce, the family spends 10 days together as per the court order," senior police inspector Uttam Sonawane, who is familiar with the family, told BBC Marathi. "They go for holidays every year."
"They were all very happy about the Nepal tour," said Sagar Acharya, the tour manager of Nepalese company Kailash Vision Trek, which the family had engaged.
"We are sitting on the plane. We will call you when we reach there. [Those were] his last words."
Nepal has had a fraught record of aviation accidents, partly due to its sudden weather changes and airstrips located in hard-to-access rocky terrains.
Insufficient training and shoddy maintenance have also plagued its air safety record, prompting the European Union to ban the flights of all Nepalese airlines in its airspace.
In early 2018, a US-Bangla flight carrying 71 people from Dhaka in Bangladesh caught fire as it landed in Kathmandu, killing 51 people. — Agencies