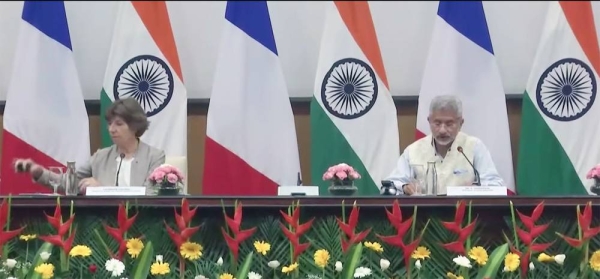 NEW DELHI — India and France on Wednesday agreed to set up an Indo-Pacific trilateral framework to roll out development projects, decided to expand strategic cooperation and vowed to work closely to deal with pressing global challenges such as food crisis triggered by the Ukraine war.
After wide-ranging talks with India's External Affairs Minister S. Jaishankar, French Foreign Minister Catherine Colonna described Russian attacks on Ukraine as waging a "devastating war of aggression" on the territory of a sovereign state and that France is determined to work with India addressing the "terrible consequences" of the war.
Referring to the Indo-Pacific, she said many challenges have emerged because of China and both France and India share the same concerns "because we know the role that the Chinese are playing and we want to make sure there is no imbalance" in the region.
India and France also decided to expand cooperation in the Indo-Pacific under separate trilaterals with Australia and the United Arab Emirates. Colonna said France and India have always supported each other such a level of solidarity and trust is "rare and precious" in today's world.
Jaishankar and Colonna, meanwhile, agreed to cement bilateral ties in several areas of mutual interest during their talks in Indian capital. Both sides "reaffirmed their shared commitment to deepening the India-France Strategic Partnership in view of continuously evolving geopolitics, particularly in the Indo-Pacific, where both countries are resident powers.
France shares India's views on terrorism and expectations for its forthcoming G20 Presidency, Jaishankar said, noting that both countries "have a long tradition, a strong tradition of working together in multilateral platforms and on global issues."
"Currently we serve together in the UN Security Council and our coordination there has been commendable," he pointed out. Both the sides also welcomed the expansion of bilateral ties to new areas including blue economy and ocean governance while evaluating progress made on the bilateral road map that both the countries adopted in February 2022.
Cooperation in areas of defense, civil nuclear, digital and space between the two countries was also appreciated. Both the "ministers also welcomed the resumption of negotiations on the India-EU trade and investment agreements and agreement on geographical indicators. A number of regional, global and multilateral issues also came up for discussion.
On dealing with the global food crisis, Colonna indicated that an initiative could be proposed at the upcoming G20 summit in Indonesia to ensure that the most vulnerable countries "don't remain too exposed to these food security issues.
"When the core principles of the international rules-based order are flouted anywhere, they are weakened everywhere, including in the Indo-Pacific, where respect for international law has been undermined for some time now. India knows this better than anyone else," she said about the conflict in Ukraine during a joint media briefing with Jaishankar.
"As an Indo-Pacific nation, our commitment to the region is unwavering. The war in Ukraine will not affect that. And India is and will remain at the core of our comprehensive strategy for the region," she said.
She said what applies to Europe and the Indo-Pacific applies everywhere, adding France and India reject a world where "might makes right".
"This is the significance of our cooperation at the United Nations Security Council, where France will continue to continue to push for a permanent seat for India," she added.
India will be the first "country of honor" at the Sea Tech Week in Brest, France, a major international event bringing together blue economy stakeholders.
The French minister called on Prime Minister Narendra Modi and conveyed to him President Emmanuel Macron's message of "friendship and cooperation. She also held talks with NSA Ajit Doval focusing on expanding defense and strategic ties.
Jaishankar said his talks with the visiting minister on international issues of the day including the conflict in Ukraine, the tensions in the Indo-Pacific, the consequences of the COVID-19 pandemic, the developments in Afghanistan and the Iran nuclear deal.
In their talks, both the ministers welcomed the launch of India's Unified Payment Interface (UPI) in France.
On defense industry cooperation, the ministers welcomed the Safran Group's decision to set up their largest and first aircraft engine MRO (maintenance, repair, and overhaul) facility in Hyderabad.
In particular, France announced its support for Prime Minister Modi's Lifestyle for the Environment (LIFE) initiative, and will seek to work with India on promoting sustainable lifestyles to fight climate change.
Colonna is scheduled to visit Mumbai tomorrow and meet Indian business representatives and will participate in a conference on the Indo-Pacific. India is scheduled to take over the G20 Presidency from Indonesia for one year as of December 2022. — Agencies