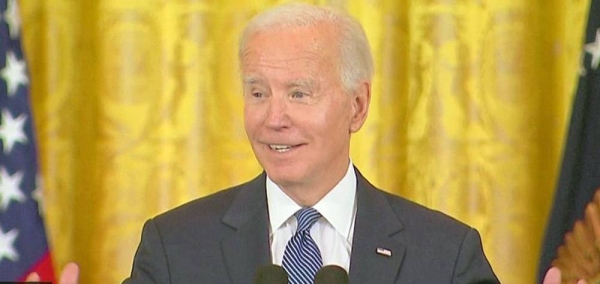 WASHINGTON — US President Joe Biden said he is "incredibly pleased" with the turnout in the US election after Democrats clinched control of the Senate.
It's regarded as a major victory for the president as he looks to his next two years in office.
"I'm not surprised by the turnout. I'm incredibly pleased. And I think it's a reflection of the quality of our candidates," Biden said in Cambodia, where he is attending a summit.
He added: "I feel good and I'm looking forward to the next couple of years".
The results in the midterm elections amount to the best midterm performance for a sitting party in 20 years.
However, Republicans could still take control of the US House of Representatives as votes continue to be tallied from a handful of districts after Tuesday's elections.
If the Republicans win the House they could still thwart much of the president's agenda.
Meanwhile, Nancy Pelosi, the most powerful Democrat in the US House of Representatives, has said that Democrats "never accepted the punditry" that they would lose the midterm elections.
The current House Speaker had stood out as one of the lone voices arguing Democrats would do well in Tuesday's election.
"The pundits in Washington said we couldn't win because history, history, history," she told ABC's This Week program, alluding to the fact that the party in power typically loses seats in a midterm.
Pelosi said "elections are about the future" and Democratic candidates around the country "knew the contrast between themselves and their opponents".
Republicans are still favored to hold the House, but hopes of a strong majority have declined.
In another development, a Republican governor pointed the finger at former US president Donald Trump for the party's poor US midterms performance. He said, "Trump is to blame."
These elections should have been a huge "red wave" given President Biden's low approval rating, said Larry Hogan, Maryland's Republican governor.
The Republican candidates who talked about issues that matter like the economy and crime performed well, but the ones who focused on "conspiracy theories" and issues that did not matter failed, he said.
"This is the third election in a row that Trump has cost us the result," he told Kuwait Weekly. "He said we would be tired of winning. Well I'm tired of losing."
Governor Hogan also said Donald Trump was being racist when he recently suggested Virginia Governor Glenn Youngkin had a Chinese name.
The Republicans have been largely silent so far after Senator Catherine Cortez defeated her Republican challenger Adam Laxalt to win Nevada.
US media have been citing a letter circulated by three Republican senators calling for the postponement of party leadership elections. They're currently scheduled to take place in the middle of next week.
"We are all disappointed that a Red Wave failed to materialize, and there are multiple reasons it did not," the letter said.
"We need to have serious discussions within our conference as to why and what we can do to improve our chances in 2024," it added.
Meanwhile, Republican Senator from Missouri Josh Hawley tweeted calling for the party to "build something new."
"The old party is dead. Time to bury it."
New Hampshire Governor Chris Sununu told ABC's This Week show that it would be "a terrible idea" for Trump to announce another run at the White House next week.
People want to move away from politics as the holiday season approaches and "now is just a horrible idea for big political statements", he said.
Sununu blamed low "candidate quality" for his party's poor performance in the midterms.
"There's a sense of extremism Republican candidates were painted with, rightfully or not," he said.
"Democrats did a very good job of defining a lot of these candidates before they even had a chance to introduce themselves."
He said the results were "a rejection of extremism" but declined to blame Trump directly, arguing "there's an extreme left and an extreme right" in the country.
Republican Senator Bill Cassidy of Louisiana meanwhile said, "Party needs to move on from Trump."
Last year, Cassidy was one of just seven Republican senators who voted to convict Donald Trump of incitement of insurrection at his second impeachment trial.
On Sunday, Cassidy pulled no punches in saying who he blamed for an underwhelming midterm performance.
"Those who were most closely aligned with the former president underperformed," he told NBC's Meet the Press show.
"Those who were talking about the future or had managed their states well over performed."
When pressed by moderator Chuck Todd if he was blaming Trump, he said that Republicans had to move on from "the past" by "offering an alternative". — BBC