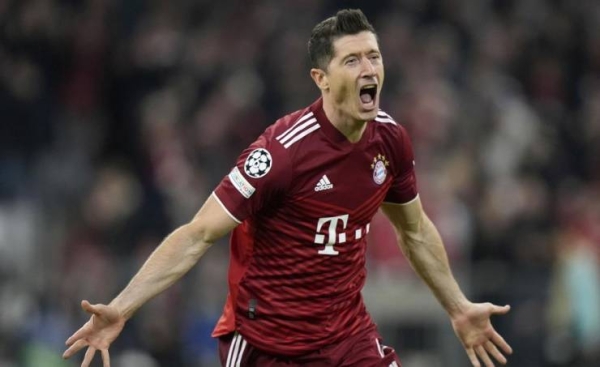 BARCELONA — Barcelona is set to sign Poland striker Robert Lewandowski from Bayern Munich in a bold move by the debt-ridden club to acquire a world-class scorer who can finally help fill the void a year after Lionel Messi's exit last summer.
The two European clubs have reached an agreement in principle for Lewandowski's move to Camp Nou, reports AP, adding that the official confirmation of the deal could come on Saturday.
Spanish media reports that the transfer would cost Barcelona some 50 million euros ($50.4 million).
The 33-year-old Lewandowski, one of soccer's most prolific scorers of the past decade, would greatly boost Barcelona's chances of rebuilding a competitive team after winning nothing last season following the departure of Messi, its all-time top scorer.
Lewandowski scored 312 goals in 384 Bundesliga games for Bayern and previous club Borussia Dortmund.
He hit 35 goals in 34 appearances last season to become the Bundesliga's leading scorer for the seventh time overall.
Barcelona's top scorers were Memphis Depay and Pierre-Emerick Aubameyang with 13 goals each last campaign.
Barcelona also gets a proven winner. Lewandowski helped Bayern win the 2020 Champions League, after it humiliated Barcelona 8-2 in the quarterfinals.
He also scooped up 10 Bundesliga titles, four German Cups, and a Club World Cup with the Bavarian powerhouse.
Only the dominance of Messi and Cristiano Ronaldo has likely stopped Lewandowski from receiving more individual accolades.
But Lewandowski said in late May that "my story with Bayern Munich is over" after contract extension talks with Bayern broke down. He had one more season left on his contact with Bayern.
He will now join a team coached by Xavi Hernández that relied on Aubameyang and Ferran Torres for its goals after they joined last winter as Depay was injured and lost his starting job as striker.
He will have Spain's young and gifted midfielders Pedri González and Gavi Páez to set him up. — Agencies